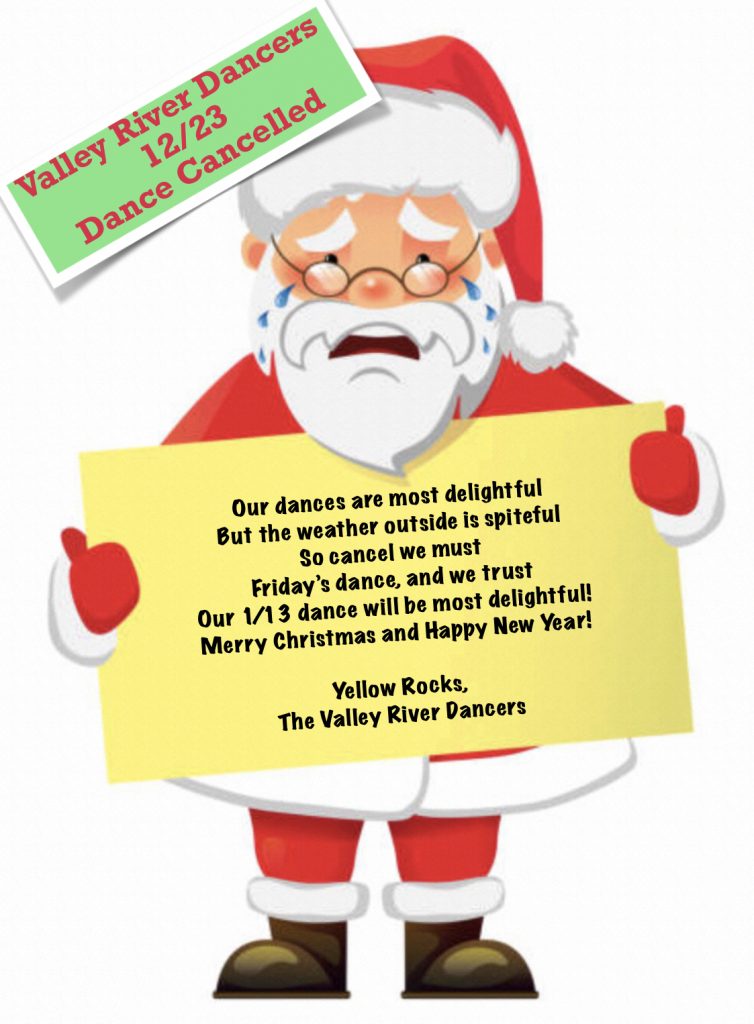 NEW DANCERS DANCE!
SORRY! Cancelled due to the extreme weather!!


Join us on Friday, December 23rd for our traditional gift exchange and New Dancers Dance, Bring a gift of approximately $5 to exchange. Don't sweat the details – a $5 gift card at Starbucks or Dutch Bros is always popular. Or that scarf that you've been knitting. If you forget, the members usually bring extras.
Leonard will start the night out with pre-rounds from 7:30 to 8:00. Leonard takes requests, so bring your wish list. Mixed Plus and rounds continue from 8:00 to 10:00. Randy calls to the floor level so don't be timid. If you're having trouble with a call, he'll walk you through it.
Previous VRD dances had more men than women, but no matter, everyone dances even if we have to dance the other gender!
Welcome to Valley River Dancers!
We dance on the 2nd and 4th Fridays of every month. The 2nd Friday is a Plus dance and the 4th Friday is a Mainstream dance. Please check our calendar for more detail on the dance. Also, don't miss our facebook page (link at end of menu above).
We generally dance in the Newberg Community Center at 2nd and Howard. Pre-plus or rounds at 7:30 with the main program at 8:00.